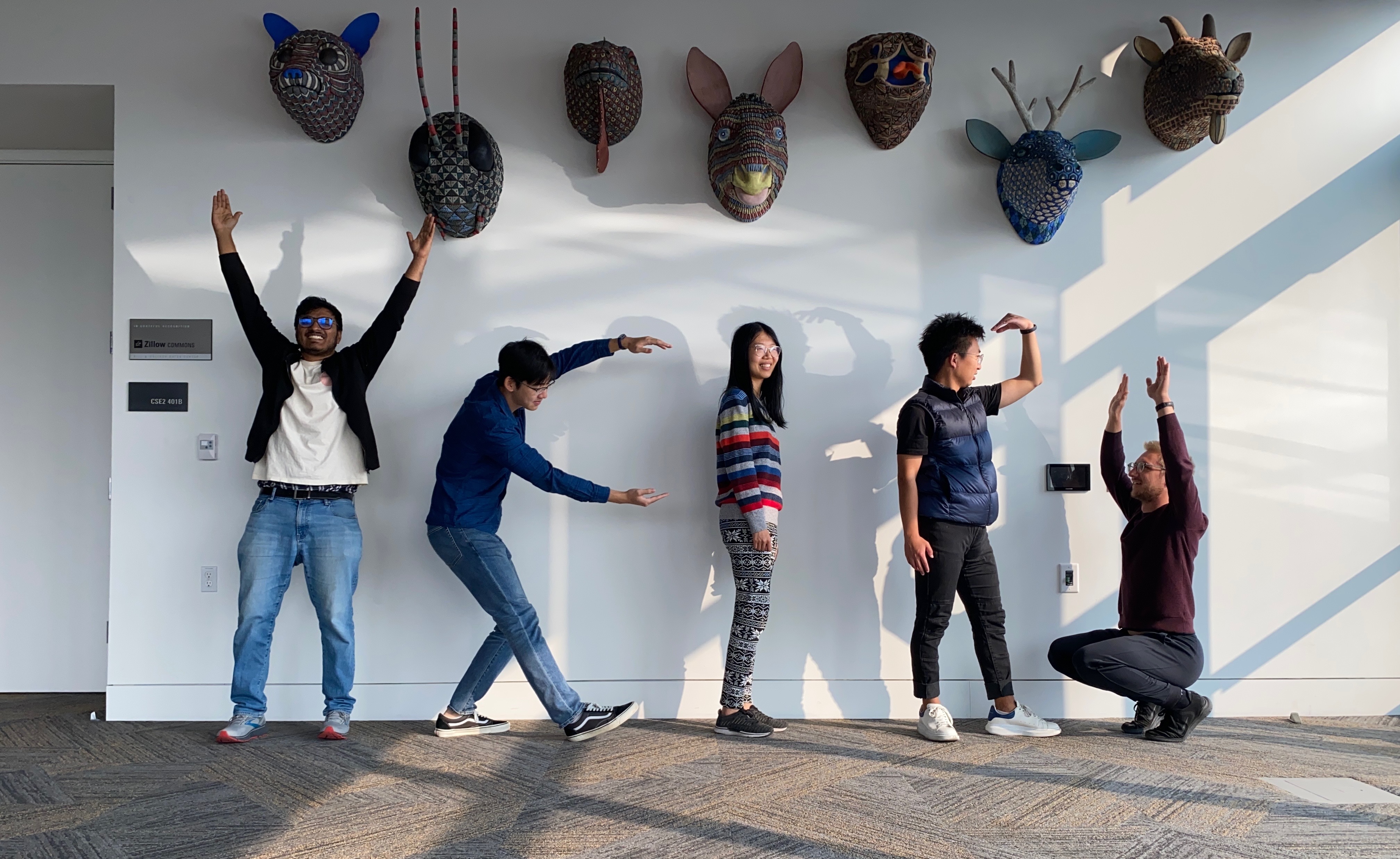 Welcome to the WEIRD (Washington Embodied Intelligence and Robotics Development) lab website! We are interested in robotics problems, and currently we are thinking deeply about reinforcement learning algorithms to enable real-world robotic manipulation tasks in the home. Our interests also span computer vision, language modeling, human-robot interaction and broader notions of robustness and reliability in machine learning systems. We are affiliated with UW Robotics and the Paul G. Allen School for Computer Science and Engineering at the University of Washington.
We are always actively looking for strong Ph.D students and postdocs to join our group, please visit the contact page for more information on how to apply!
News
Five new PhD students will join the WEIRD Lab this Autumn. Welcome Daphne, Patrick, Sriyash, Yunchu, Mateo!
New papers on learning in dynamic environments with model-based RL and learning from human, crowdsourced feedback. Congratulations Chuning, Marcel, Max, Siri, Zihan, Samedh!
We had three new papers accepted at CORL 2023. Congratulations to Zheyuan, Terry, Max, Marcel, Samedh and Zihan!
Chuning received the Amazon Fellowship!
Zoey's paper GenAug received RSS best paper award finalist!
Abhishek taught probabilistic robotics (CS 571) in Spring 2023. Find course materials here
Abhishek taught deep robotic learning (CS 599G) in Winter 2023. Find course materials here
Max Balsells will visit us this year from UPC in Barcelona. Welcome Max!
The WEIRD lab started up this Autumn at the University of Washington! Welcome Zoey, Marius, Chuning, Zihan!
Abhishek gave a lecture at the International Computer Vision Summer School (ICVSS) in Sicily this summer.
Abhishek recently gave a talks at the NVIDIA Seattle Robotics Lab.
Zoey had a paper accepted at CoRL 22 on generalization in grasping!
Abhishek had two papers accepted at NeurIPS 22 on reward shaping and adaptation to distribution shift!
Abhishek put out an arXiv paper on using demonstrations to bootstrap reset-free learning.
Recent Talks